Position articles within a Helpdesk Topic
By default, articles within a topic are sorted alphabetically. However, when editing an article, you have the option to change the position. This way you can put your most important articles at the top!

1. Edit or create an article 
When you're creating or editing an article, you'll see the "Topic & Position" button to the right of the title. Click it.
2. Choose the topic
When you first click the button, you'll see the Helpdesk Topics listed. Choose one. (Note: You must choose a topic before you can select a position).
3. Choose the article's position
The position menu will then open. You'll see the article's default position. Click on the drop down button to change it.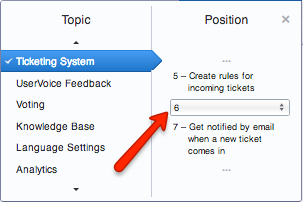 You're done!
Can I reorder articles without editing each one? No, not at this time (although, we agree it's a great idea, and we'll be looking at it down the road). 
Can I reorder articles that aren't assigned to a Helpdesk Topic? No, not at this time. Articles can only be positioned within a topic.
How do I change the order of Helpdesk Topics? Check out this great article about how to do just that.
Other Articles You Might Enjoy: